RMHA REGISTERED & CERTIFIED ROCKY MOUNTAIN MARES
..
MYRA MCGUIRE
Direct daughter of "Maple's Squirrel" (by Tobe)
Triple Registered and Certified RMHA / MPHA / KMHA Mare. Direct daughter of "Maple's Squirrel", a beautiful mare that is second generation, 42% "Tobe". One of the only Smoky Black, creme gene mares in existence. DOB: 3/12/99, 14.3 Hands, old-time sturdy build, hard hooves, smooth top line, old-time gait, absolutely the best disposition possible, extremely intelligent. Has produced many excellent, top-quality foals.
Myra was bred to Sterling Blue to foal in early June 2019. This incredible match will produce a top-notch foal. This foal is for sale in utero, for spring of 2019. This Foal can be reserved now, with a deposit, contract, and a choice of color and sex.(Price may be adjusted depending on sex and color). Silver Black Roan X Smokey Black - can produce as many as 13 different colors with 6 of them being a color of Roan.
PSSM1 - NEGATIVE
Sterling Blue is an outstanding, 15.1h, Chocolate Roan, foundation-bred stallion in the Rocky Mountain Horse breed. His Dam is a granddaughter by Buddy Roe, by the famous son of Tobe, "Sewell's Sam". His Sire was Jocko Bean, a grandson by "Yankee", a son of Tobe. Sterling has been trail ridden extensively over the years, and he has always been calm, sure footed, and evenly gaited.Sterling Blue has over the years produced many amazing offspring. These offspring have inherited Sterling's mild and kind nature, and they are known for their outstanding gait. Sterling has proven himself on the farm, and as a sire of world-class offspring. Stallions like him are very rare indeed. We feel very fortunate to have the opportunity of breeding our mares to him.
* See Menu for Sterling Blue photo page
* Serious inquires only please. Home: 920-261-8429 Cell: 920- 285-6675
PEDIGREE
MYRA MCGUIRE

MAPLE'S

SQUIRREL

TOBE

OLD TOBE

HONEY

GOODPASTURES

MAUDE

UNKNOWN

UNKNOWN

DESTINY

JOCK

SON OF YANKEE

MANNING MARE

DULCEY

CHOCO

HI- HATS PIDDLEY ANN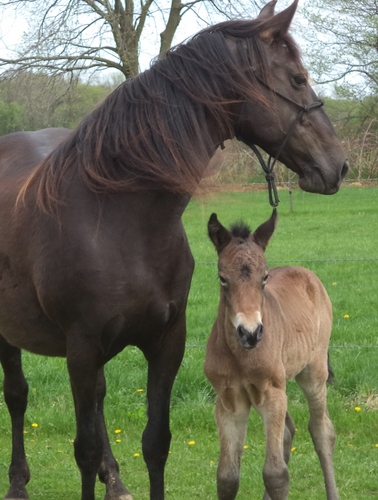 MYRA'S FILLY HEARTS'AFIRE BURNING DESIRE
BY: NUNCIO'S OZARK HEARTS'AFIRE (KOBE)
"OFFSPRING FROM THE PAST"
COMET'S MORNING STAR
THE COMET X MYRA MCGUIRE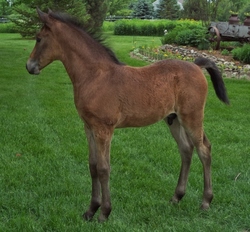 HEARTS'AFIRE LASTING IMAGE
NUNCIO'S OZARK HEARTS'AFIRE X MYRA MCGUIRE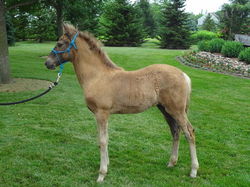 SQUIRREL'S APRIL CHARM
SQUIRREL'S SILVER DOLLAR X MYRA MCGUIRE
COMET'S BLACK JEWEL
THE COMET X MYRA MCGUIRE
MAJOR'S MOUNTAIN TROOPER
BUDDY'S MOUNTAIN MAJOR X MYRA MCGUIRE